About Us
WELCOME TO
PURPLE PIGEON TREASURES
| | | |
| --- | --- | --- |
| Looking for unique items for yourself or as a gift? Purple Pigeon Treasures is a local shop in Ladysmith BC which finds most of our unique products within a 35 km area. The owner, April, first opened up the shop back in March of 2016 beside Chopstix Salon. We have since moved to a larger location beside the Old Town Bakery in January 2018. We are always bringing in new and exciting finds to the shop! |   | |
 

Where did the name "Purple Pigeon " Come from? Aprils' neighbor once nursed a pigeon with a broken wing, back to health. When he released the pigeon back into the wild, it never left. April never forgot how the sun would shine off it's chest showing off the most beautiful shades of purple as she'd watch it fly around her neighbor's property. It was life's little gifts like this which inspired the name of our shop, Purple Pigeon Treasures.

 

Don't forget to Like us on our Facebook page and follow our Instagram page to see our most Favorited finds, store updates and events! 
Here are Purple Pigeon Treasures we like to promote our local economy by bringing in local talent. Our Treasures are generally found within a 35 kilometer radius of Ladysmith BC however some are further on Vancouver Island, surrounding islands and the mainland.  From the local area we try to bring in the most unique treasures.  We are always on the lookout for new and exciting products! If you have a product and would be interested in putting it in our shop let us know! We can work on bringing in your items with a consignment or purchase wholesale!  
See you in the Nest!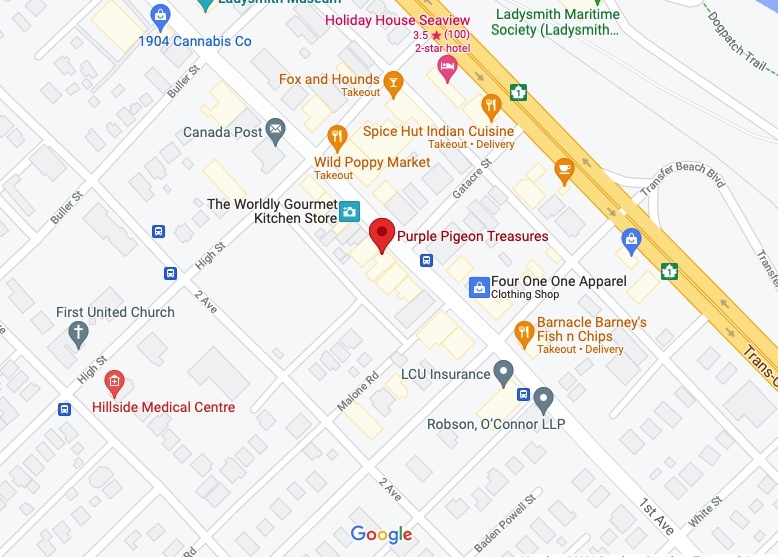 Email:
[email protected]
Phone:
250-619-9643
778-269-3323
440A First Ave
Ladysmith, British Columbia